Congratulations on becoming a parent! 
You might think that your little bub doesn't do much except eat, poop and sleep, but right after their first month, your baby will begin to take leaps in their neurodevelopment… and it won't stop! Infant toys are a must in this incredible period of learning and development.
The most amazing thing about toys and play time, is that they can be terrific ways not only for your whole family to bond with your newest addition, but also to help their development in a super fun way.
From observing their surroundings, to reaching for their feet, this first year is all about discovery!
Understanding what your little one can see, hear and feel is important in knowing how to encourage their development with the right toys and games.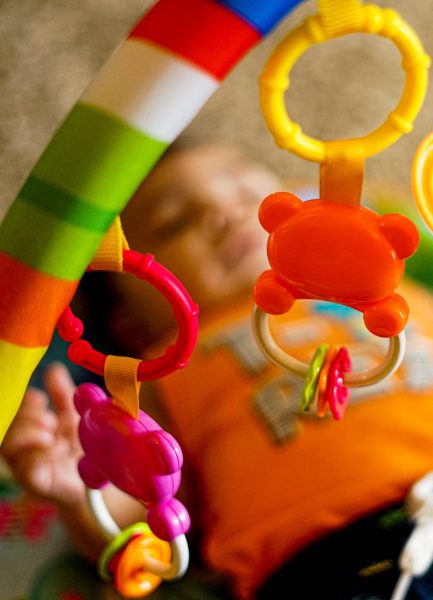 During your child's first year, they will spend most of their time learning and exploring their senses. 
For the first three months, your baby's vision may still be blurry. As they grow, they will transition from seeing only bright and bold colours and patterns, to more intricate details, like illustrations in a children's book. Toys with great colour contrast and patterns will be a feast for their eyes! 
This is also when your baby is hearing life outside the womb for the first time. They will love soft toys that play music during their first year — even if it means you'll have these tunes engraved in your brain!
Touch and feel is so important. Infants will bring just about everything to their mouth — this is how they experiment with texture. They'll soon move to playing with their hands and feet too.
BEST INFANT TOYS FOR HELPING YOUR BABY DEVELOP THEIR SENSES 
Cause and effect weighted toys

Soft rattles

Squeaky toys

Toys that make a sound or have play music 

Mirrors

Any toys that you can dangle
Each time you hold a pen or button your shirt, you're using the pincer grasp, which is the coordination of your index finger and thumb. Second nature right? To your baby, this is one of the most important milestones in fine motor development!
Learning to reach and grasp exciting and interesting toys is part of your baby's introduction to independence. Furthermore, it's the foundation for them learning to feed themselves, brush their teeth, and solo-exploration. 
Infants are fascinated by light, movement and noises, and as a result, they are beginning to understand the concept of cause and effect — if they shake that rattle, then they will hear a noise, for example. 
So, capturing their sensory curiosity with easy-to-grasp toys is a great way to encourage their natural grasping and reaching reflexes. 
BEST INFANT TOYS FOR HELPING YOUR BABY REACH & GRASP 
Pop up toys that encourage your little one to press and push buttons

Colourful board books 

Soft toys with noises 

Grabbing toys, such as Dimpl and Pip Squigz silicone sets 

Ring stacking toys or soft stacking blocks with different textures 

Bright Beats Activity Centre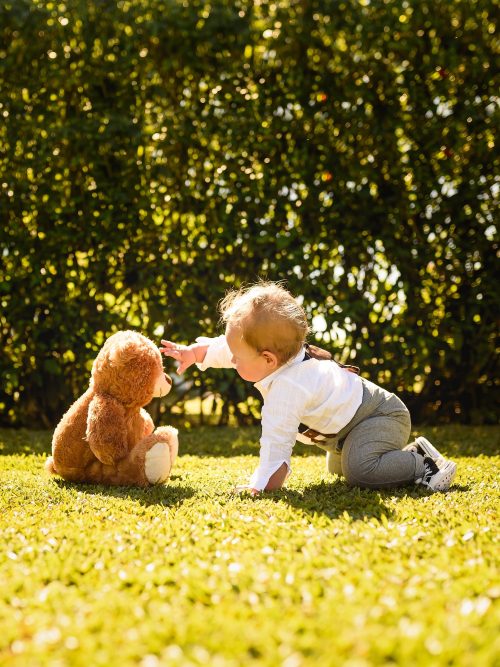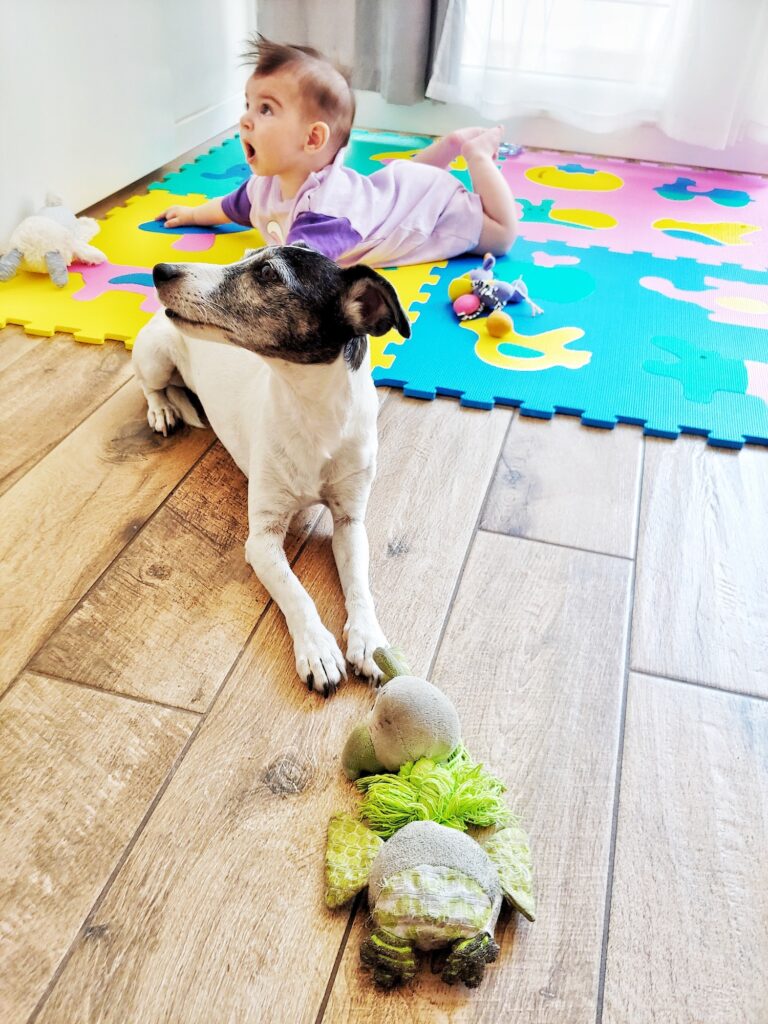 And then one day you pop you bub on their back and — bam! — all of a sudden, they're on their tummy. Well, that 'all of a sudden' is actually a progression, and tummy time plays a key role in helping your baby feel comfortable on their tummy.
You can progress from having them on your lap facing you (since you are super interesting to them!) to laying them on the floor with mirrored toys that will get that neck up to see their own reflection. 
Using infant toys to get your baby to roll will help in developing their postural control (which is important for the later development of fine motor skills), as well as helping to engage their brain in a way that makes the left and right sides of the body coordinate with each other (this will also influence their future reading and writing skills!)
Encourage your baby to play above and below their midline — this will help to strengthen their bodies in preparation for rolling over. Grabbing toys, such as rattles and soft balls are great for their upper half, whilst playing with your child's feet and legs will help engage their lower half. 
Also capture your little one's attention whilst they lay on their side. This will engage their curiosity, getting them to reach and eventually roll over towards the toys. 
BEST INFANT TOYS FOR HELPING YOUR BABY ROLL OVER
Play mats and mirrors 

Bright, colourful and engaging toys like activity triangles 

Rolling musical mirror toys 

Rattles and grabbing toys

Soft balls 
Learning to crawl is a complex milestone for your little one, so by helping them along with attention-grabbing toys, you will be supporting their arm and leg coordination, and muscular strength through their arms, shoulders and lower body.  
After all, this is often their first taste of independent mobility (and your last chance to have a hot cuppa!) 
There is no one way to crawl and there are many ways you can support this part of your child's development. Remember: this is not a competition, babies start crawling at different months and that's ok.  
Again, giving them plenty of tummy time helps them engage and strengthen the required muscles for crawling, and by encouraging them to reach for the toys they are interested in, you help them form the connection between them wanting something and discovering a way to get it.
BEST INFANT TOYS FOR HELPING YOUR BABY CRAWL
Toys that light up and/ or make noises to capture their attention 

Toys that get them moving, like the Little Tikes Ball Chase Octopus 

Little Tikes Peek-A-Boo Tunnel 

Spin'n Play suction toys 

PlaySkool Pull Along Dog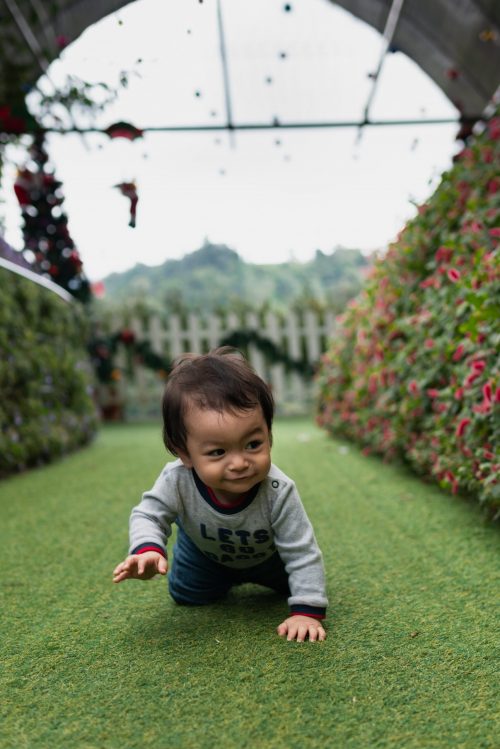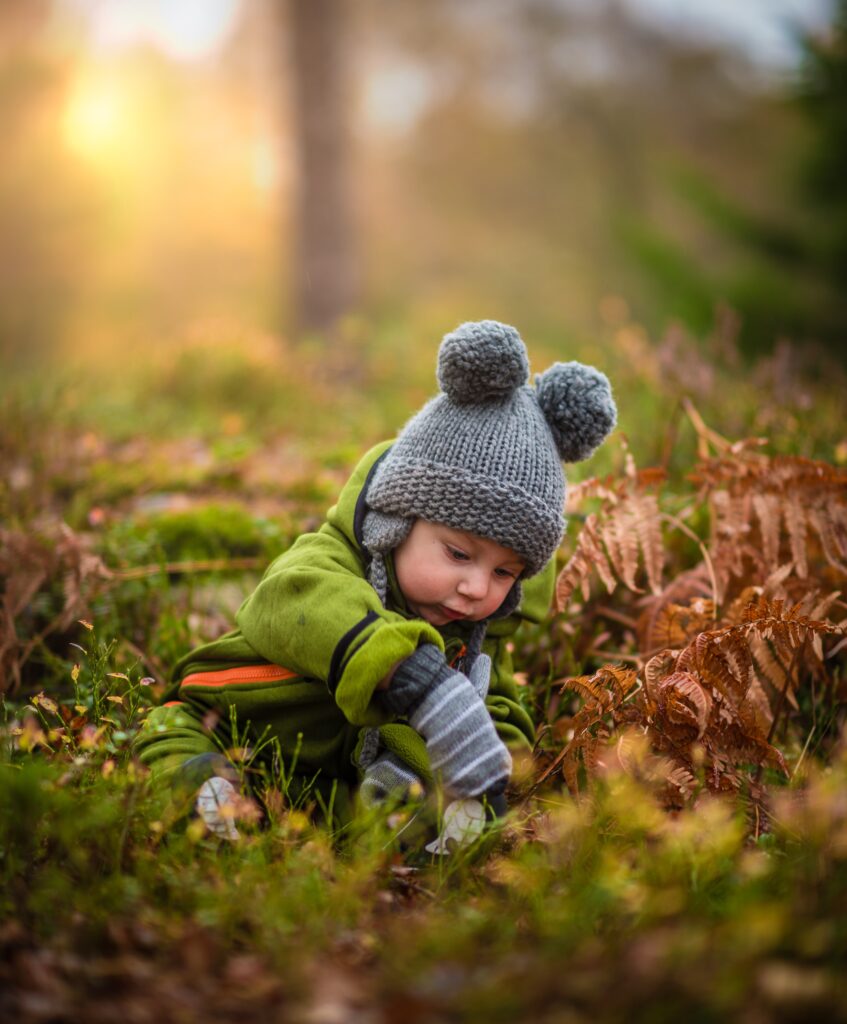 By using fun toys to encourage your child to sit up, your baby is engaging important core muscles, helping in their gross motor skill development. 
When your baby wobbles, their brain is receiving important sensory information that helps them automatically adjust their reflexes and muscles. This helps them tumble and eventually sit upright. 
So, using exciting and colourful infant toys to get their attention during play is a useful way to get them engaging their core and tumbling in a safe and soft setting. 
BEST INFANT TOYS FOR HELPING YOUR BABY SIT UP
Soft play mats 

Shape sorters 

Toys with noises, like Tap-A-Tune Piano and Silly Sentence Caterpillar 

Musical Pop-tivity Table, or other interactive learning tables with removable legs so they can be enjoyed by your baby as they hone their sitting skills as well as when they have learned to stand 

Seat positioners with elements to grab and reach for
As much as you would love to keep them still for five minutes, the time will come to start helping your little one take their first steps!
Toys that enable and encourage your baby's mobility are key parts in their journey towards walking. It's not only a complex combination of major muscle groups and strength, but an important element to their mental reasoning behind risk taking. 
Keeping your baby barefoot whilst they play with walk and ride mobility toys will help them use tactile information to guide them to adjust their balance and posture. This also sgnals to them which muscles to engage. 
BEST INFANT TOYS FOR HELPING YOUR BABY STAND & WALK
Put their favourite toys on higher (yet reachable) surfaces 

First walker toys on wheels, such as the Poppin Park Giraffe Walker 

Pikler triangles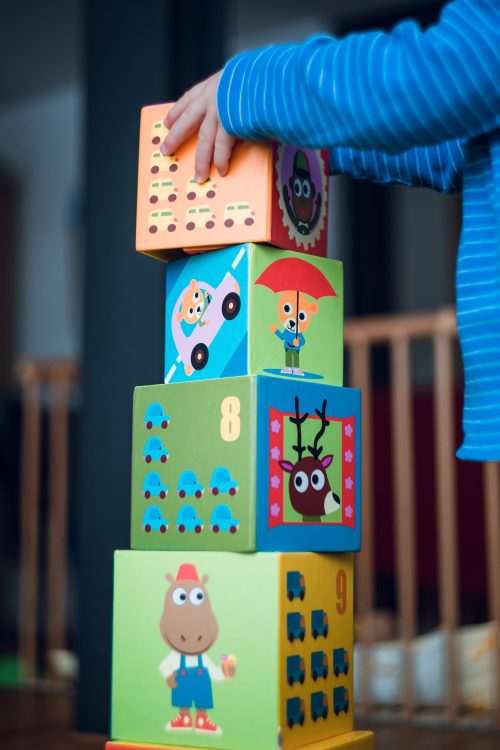 Play time during your child's first year is critical to their cognitive and physical development, as well as their social and emotional growth — but it doesn't have to be complicated! 
Whether it's using toys to encourage them to roll or sit, or bigger toys that engage their gross motor skills to get them on the move, a good mixture of different toys will help your little one to grow and play.