One less week! Woohoo! But that doesn't mean we've run out of ideas! Here are some more fun kids activities to do during this lockdown to bring some inspo to your house!
Please keep sending us your photos and activities at info@baysidetoylibrary.org.au… we love hearing from our community!
Puzzle Piece Hunt
We all have some puzzles at home, or have borrowed some. Here is a perfect rainy day activity that takes two minutes to setup and results in at least 20 minutes quiet time!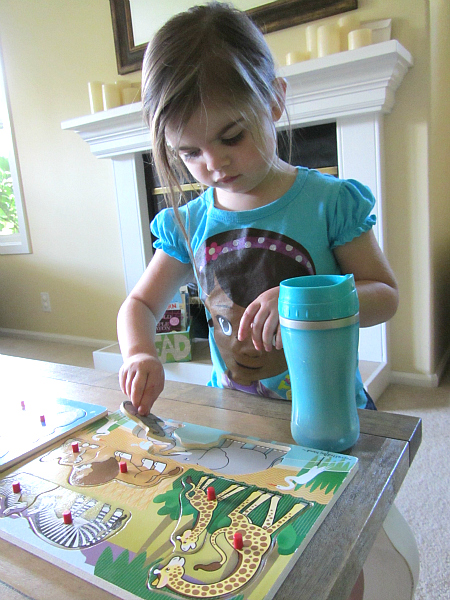 WHAT DO YOU NEED?
A puzzle – doesn't matter what type, but one that matches to your child's skill level is best.
HOW DOES IT WORK
Choose a puzzle, hide the pieces around the room (either in plain sight for toddlers or harder to find for older kids) and voila! The hunt is on to complete the puzzle.
If you have siblings you can get them to work as a team by saying if they find all the pieces they win, if they don't you win. The best part about puzzle hunts is that you know if you forgot to find a piece because the puzzle won't be complete.
WHO IS IT FOR?
Can be tailored from toddlers to preschoolers – increasing fine motor skills, strategy and problem solving. Skills such as subtraction (how many are left?), location (is it under the couch?), and recognition (can we find the cow?) all integrate into this wonderfully simple activity.
Masking tape fun
Talk about finding fun in the ordinary! Masking tape, or painters tape – which we all have lying around in a drawer somewhere – can entertain in so many ways. We're serious! This week we'll focus on some tape games for littlies.
WHAT DO YOU NEED?
HOW DOES IT WORK?
For shape recognition and memory skills, tape some shapes to the floor and give a variety of directions to move from one to the other, for example 'run to the square' 'crawl to the triangle' or even directions such as 'can you put your teddy in the circle?'
To build on those all-important gross motor skills, start by taping one long line and play follow the leader or a balancing game. Another option would be to make 5-10 separate lines of tape, each about 60cm apart, and then give your kids instructions such as seeing how many lines they can jump over.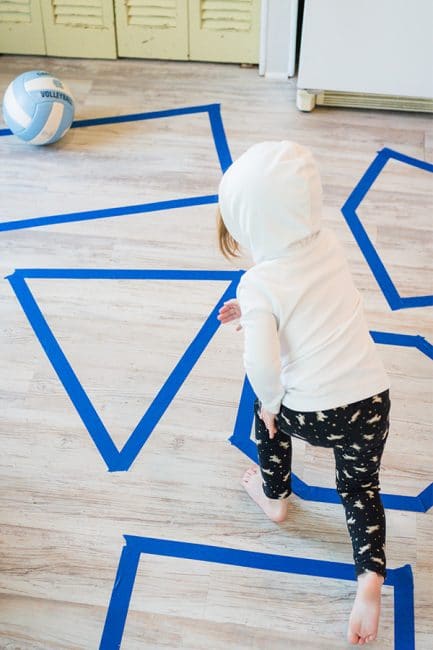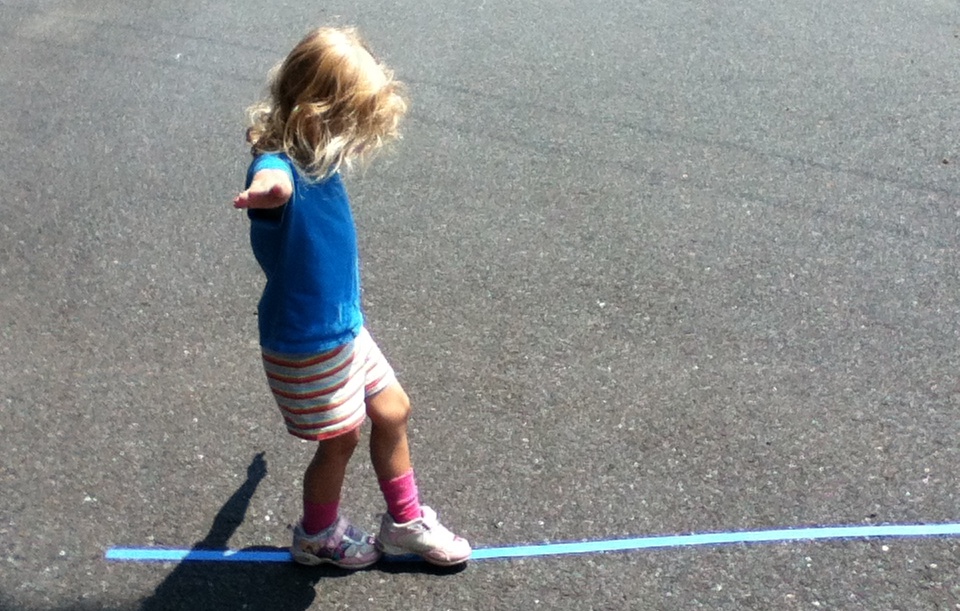 WHO IS IT FOR?
Building on gross motor skills and shape recognition, these games are aimed at toddlers, however you could try swapping shapes for numbers, and hopping instead of jumping, to increase the challenge for pre-schoolers.
WORD OF CAUTION: remove the tape within 24 hours, otherwise you'll be left with sticky residue!
Letter finding
Do you have some shaving cream left from last week? Let's put it to work for another sensory game!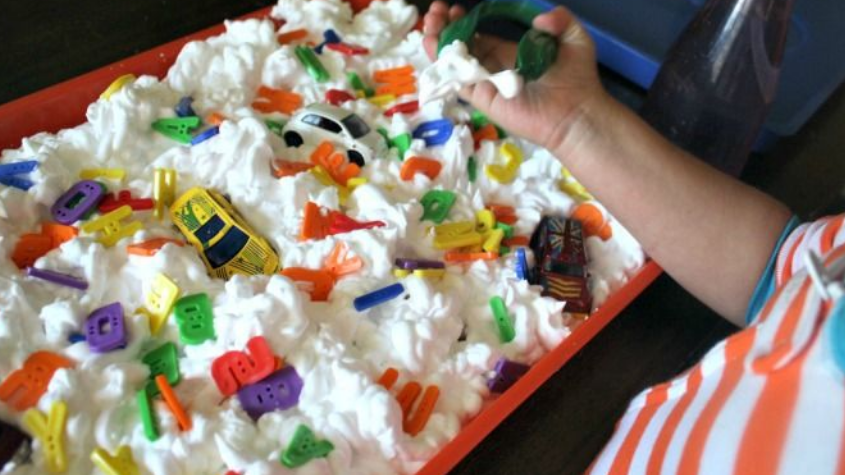 WHAT DO YOU NEED?
Shaving cream
Tray
Toys
Letters
HOW DOES IT WORK AND WHO IS IT FOR?
Simply put your scrabble letters (or magnetic fridge letters) into a bowl filled with shaving foam.
For little ones you can give them a measuring scoop and see if you can name the letters as they are fished out, for older school aged kids why not use tongs to get them out and see what words you can make along the way!
Hand Puppets and Puppet Show
Don't be put off or scared by the thought of this! These puppets are super easy to make and can literally be any animal you want them to be – from a bunny to unicorn, crocodile or bee.
WHAT DO YOU NEED?
Paper – coloured if you have it, plain if you don't
Glue stick
Markers – crayons, pencils, textas, whatever you have available
Box (we used a Hello Fresh box)
HOW DOES IT WORK?
We followed the instructions in this video.
For the puppet show, all you need to do get a big enough box, cut a hole in one side and then it can be decorated any way your little one desires! This one is also great for siblings, as they can each make their own puppet and then work together to create the show.
WHO IS IT FOR?
For toddlers, you will need to do the cutting and glueing and then they can help decorate.
Preschoolers might like to practice those grasp and release fine motor skills and do the cutting themselves.
Honestly, this provided entertainment for weeks! Our Puppy 'Patch' became a family pet and was involved in daily puppet shows.
Pick a stick
This one is super simple and easy… is the perfect solution to 'I'm bored' and a great way to break up the day. I just wish I had more sticks! 
WHAT DO YOU NEED?
HOW DOES IT WORK?
Sit down with kids and put together some ideas to write on the sticks. Some are inspiration, such as 'play outside', 'draw a picture', or 'make a Lego tower' – others are housework, just because! Throw in a couple of gold nuggets such as 'watch TV' and you'll find kids are willing to take the chance and pick a stick every time they are bored! Rules are they MUST do what the stick says…so if it's dusting, they must dust!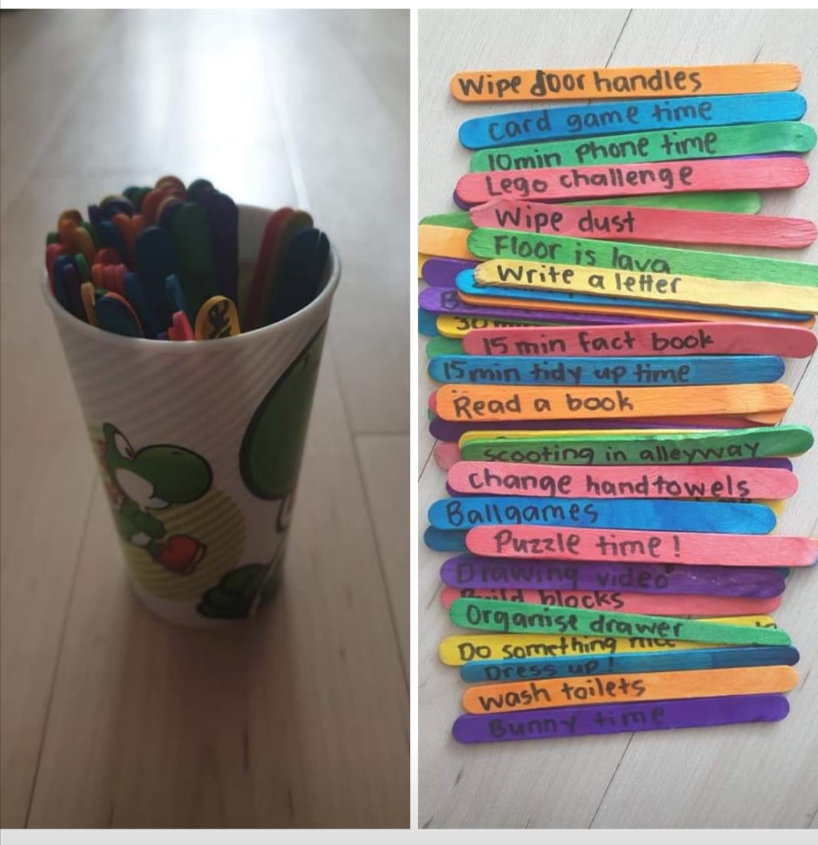 WHO IS IT FOR?
Works best with children who have a grasp of consequences but can be great inspiration for parents who are stuck for ideas on what to do next! You could include skills such as 'pick up 10 pieces of paper with tweezers' or 'sort all your socks into colour' – this one can go wherever your imagination takes you!  
Sensory Planets
Solar systems are intriging and exciting for older kiddies. So why not build one with Playdoh?
WHAT DO YOU NEED
Playdoh. Even if  colors are mixed with each other (which, let's be honest, this is exactly how we all have our play doh), it works as we can get as creative as we can to represent the different colours of the planets. 
HOW DOES IT WORK
You are going to build the Sun, eight planets and their moons rolled proportionately.
Start rolling play dough into different sized balls proportionately. Identify how many moons each planets have and rolls smaller balls and arrange around the planets.  Once it is all ready, use the play dough as prop to sing the planet song.  This activity can engage a 4 year old for a good part of 2 hours as it takes effort to make planets and moons and then play act with the song. 🙂 
WHO IS IT FOR?
This is a great activity for preschoolers, and you can complement it with the planet song series on YouTube.