Stage 4 means kids at home 23 hours a day. And this can be hard. We know a lot of our community managed to get toys before lockdown was enforced, but even with toy rotation, it might get a bit repetitive. So we thought we'd put together a list of kids activities that members of the BTL are doing at home that are "ISO friendly" (aka, you don't need to go and buy a supply of craft stuff!) and for kids all ages, and we'll share different activities to keep things interesting once a week.
If you have any mini-wins and kids activities you'd like to share with the rest of Bayside families, we'd love to hear from you! Send us your activities and photos of your family at info@baysidetoylibrary.org.au
Bring to life a citizen of Spoonville
If you have been walking around the streets of Bayside you would have found a series of Spoonvilles. There's even a master post on the Bayside Community Hub that has the location of a bunch of them!
WHAT DO YOU NEED?
wooden utensils (spoons are great because of the "face real estate", but Spoonville also welcomes knives and forks!)
glue
whatever you have in your house that you can attach to said utensil: from feathers to grass, fabric, twirls, old buttons… the world is your oyster!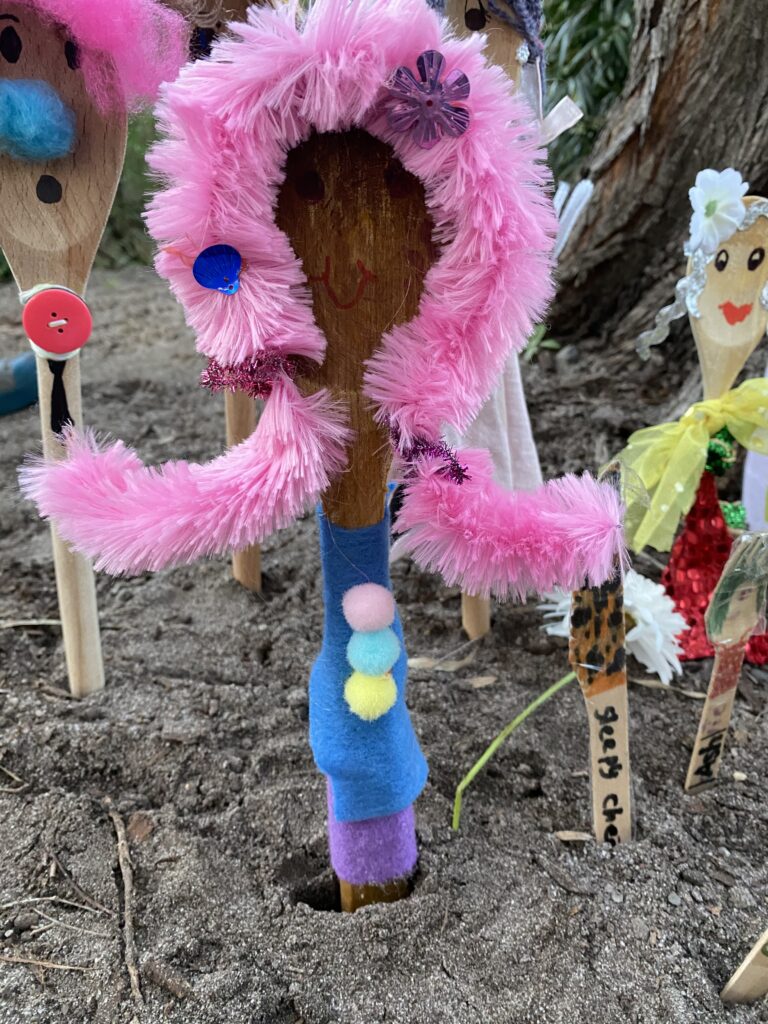 HOW DOES IT WORK
You set a craft space in your house (even if it's the dining table, make it a full activity by creating the space!) and then get crafty!
Sarah, our toy library manager, spent a full afternoon with Stevie and Indi creating the spoons and then walking to Sandy Village to place them there.
WHO IS IT FOR?
Kids all ages really. Toddlers will enjoy the mess more than anything else, preschoolers will be all about imaginative play and early learners can explore their creativity. And yes, fine motor skills will be practiced by all (including adults!)
Frozen Animal Rescue!
It's winter in Melbourne, and the Ice Age has arrived to your house to trap some beloved animals!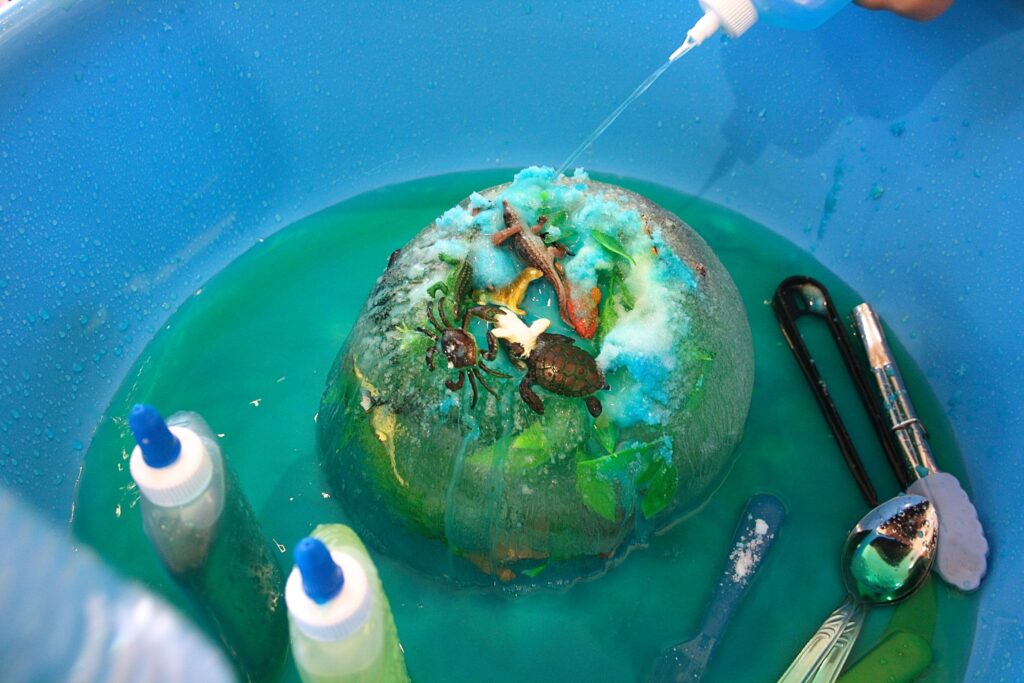 WHAT DO YOU NEED?
small animal figurines – it can be any animals, even extinct ones! 😉
cupcake tray (silicone is best) or tupperware containers – these will become the ice cubes that are trapping the animals
either tongs, spoons or bottle to squirt water
large container or tray
HOW DOES IT WORK?
Get yourself a cupcake tray, pop one or two animal figures in each (depending on size), fill with water each container and pop in the freezer.
Once frozen, push out of the moulds into a larger container, so you have a full tray of animals trapped in icecubes
Fill a squirt or spray bottle with warm water (as it's winter!) and set your children on their mission to free the trapped animals!
Watch as they squirt, scrape, chip and pull to work to free their animals….it's amazing how long this task can hold their attention!
WHO IS IT FOR?
This is a great game for toddlers and pre schoolers alike – working on fine motor skills, developing pincer grip if you use tongs or hand strength if using a spray or squirt bottle.
The Circle Rainbow Challenge
Probably one of the easiest (and most open-ended) options for colour-sorting kids activities, the circle rainbow challenge gets kids to build a rainbow… with whatever they (and you!) have at hand.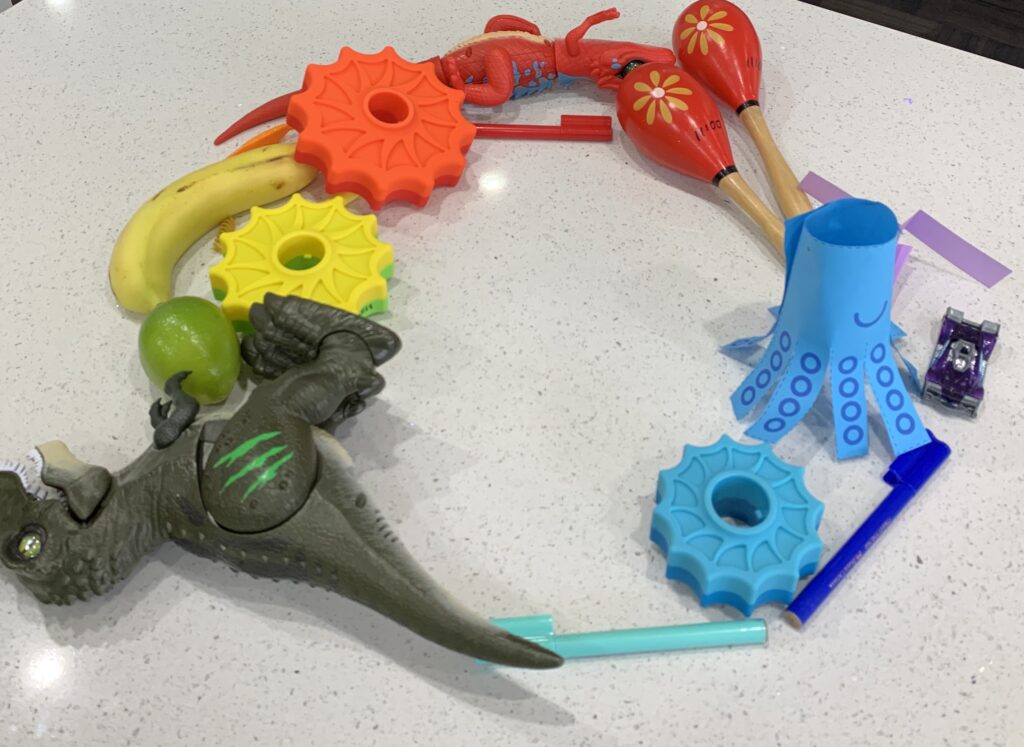 WHAT DO YOU NEED?
Pick a category, be it toys, paper, clothes, lego… you name it! The important thing is that there is at least one element for each colour of the rainbow.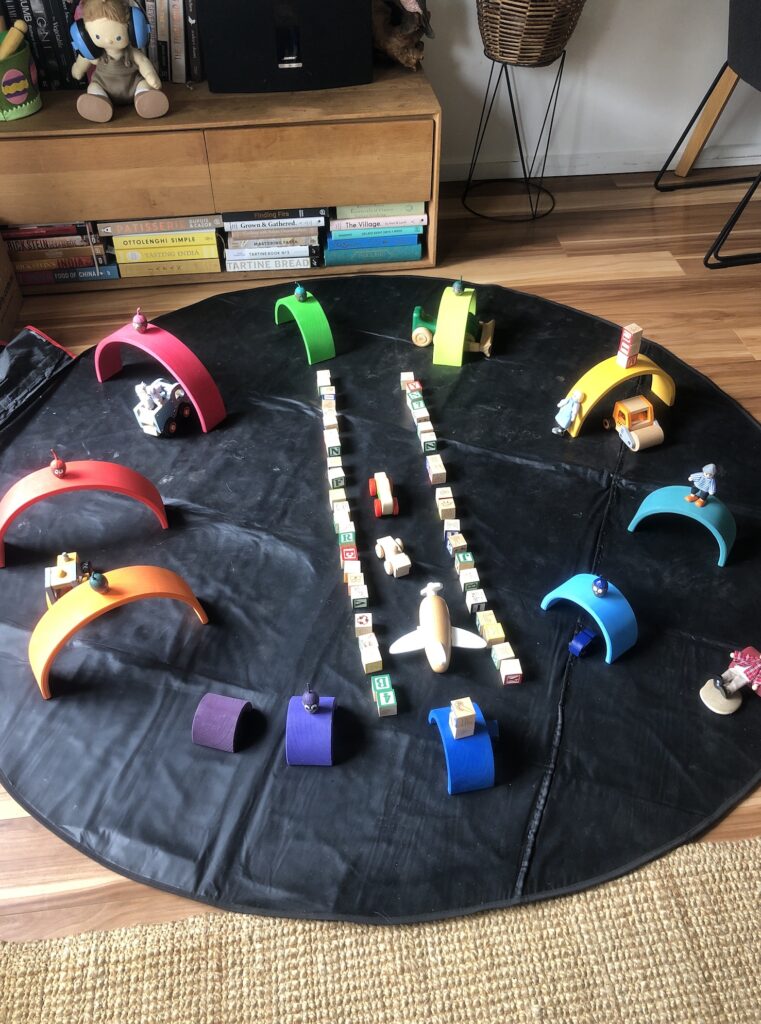 HOW DOES IT WORK?
Put the elements all in a central place and let your kids order them in a circle following the ROYGBIV sequence (Red, Orange, Yellow, Green, Blue, Indigo, Violet)
WHO IS IT FOR?
Sorting by colour increases visual perception, thinking and memory skills. Infants will love the different coloured toys. For toddlers you can give them a colour hint and let them build on top of that. Preeschoolers will love to remember the actual gradients/ sequence, while early learners could try and create their own!
Chalk it up
Have you noticed chalk drawings on the ground as you go for your daily exercise? Simple and easy fun that brings joy to anyone walking past your house and also brightens your neighbourhood!
WHAT DO YOU NEED?
HOW DOES IT WORK?
You can draw pictures, make obstacle courses, hopscotch, words of encouragement, anything your imagination desires! And the best part is….when it rains, you can start them all over again!
WHO IS IT FOR?
Older kids will have the time of their lives actually drawing and playing. With toddlers, let them scribble OR you can ask them to tell you what animal they'd like drawn and you simply oblige 😉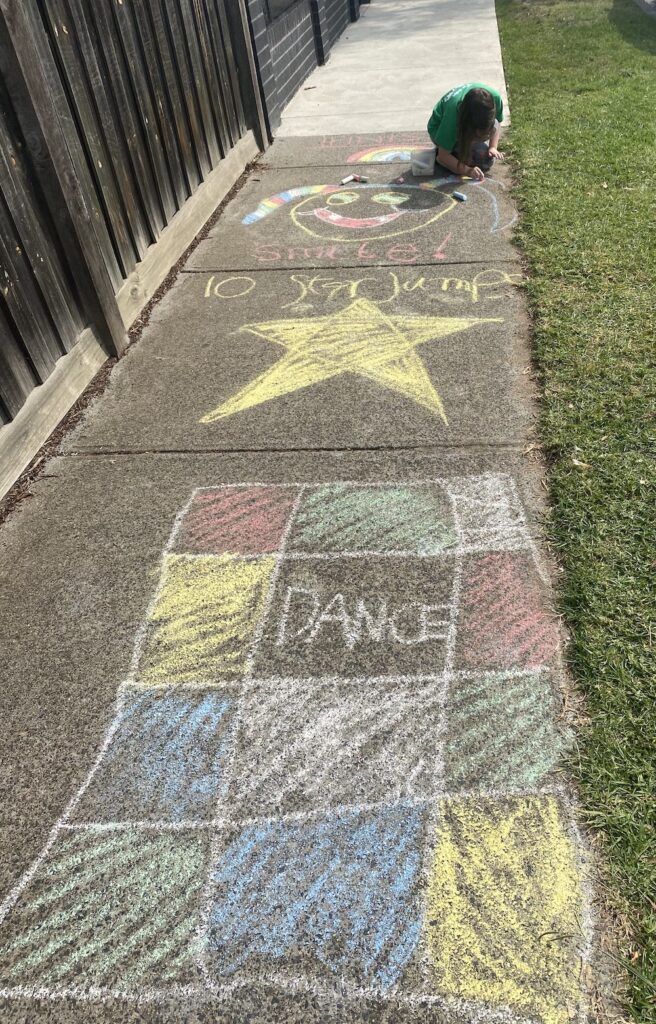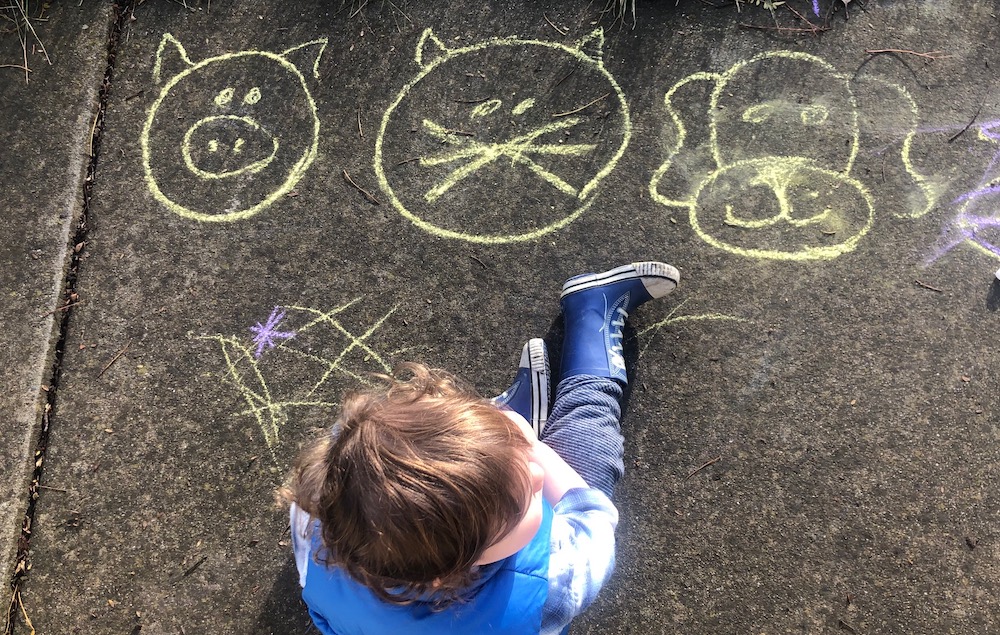 HEFTING
This one is educational as well for bonus points!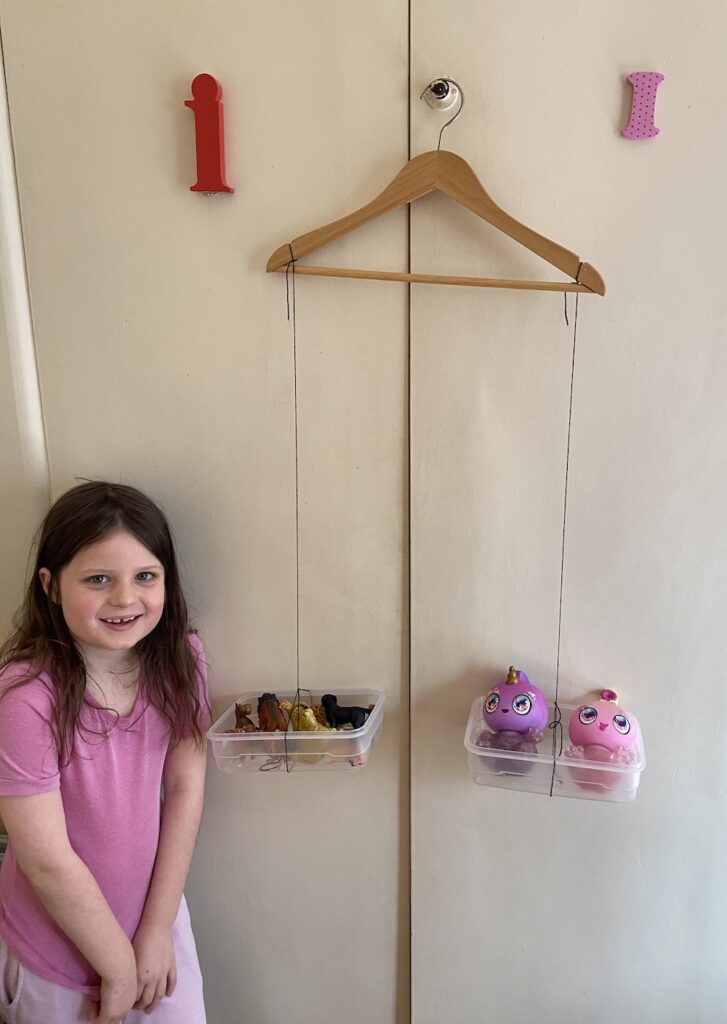 WHAT DO YOU NEED
String
Two identical containers
A coat-hanger (with notches on each end).
HOW DOES IT WORK
Hang the hanger on a door or wardrobe and enjoy figuring out how heavy household items or toys are….you may be surprised at the results! Here is Indi weighing her toys – 11 animals was equal to 2 cute aliens!
WHO IS IT FOR?
This is an older kids activities; preschoolers might find it fun, early learners will have a blast.
CARDS
Go old school and make some cards for family, friends, or neighbours! Everyone needs a smile right now, and what better way to put a smile on someone's face than a thoughtful card?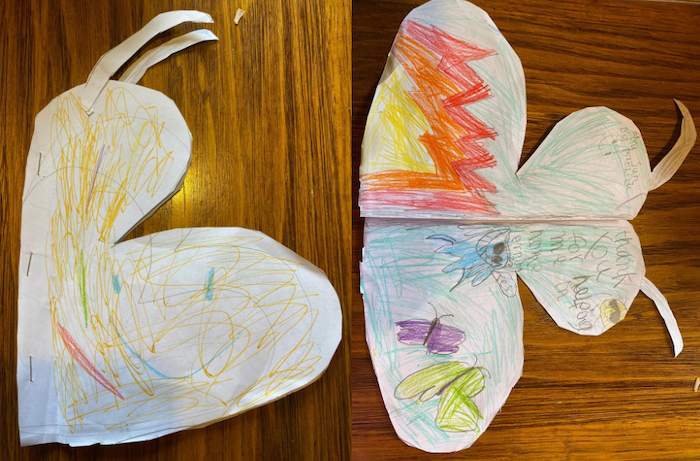 WHAT DO YOU NEED
Paper
Colour markers
Maybe collect some flowers on your daily walk?
As many or little craft stuff you have at home: stickers, tape, glitter… go wild!
HOW DOES IT WORK
You set a time to create a card for someone you haven't seen since lockdown began. This can be a day a week or if you want it to be a routine quiet time, you could also implement it once a day. Make a list before the week begins to whom each card will go to.
Then drop it in the mailbox during your daily walk (if they are within your 5km radius of course!) otherwise two stamps should do the trick… or you could even take a photo and send via text. 😉
WHO IS IT FOR?
The whole family! Little ones will need a bit more supervision (and a hand to write recipient and address) but other than that, everyone, including adults, can join in!
BONUS POINTS: if you have an elderly person nearby, we can assure you they will love a surprise like this in their mailboxes!